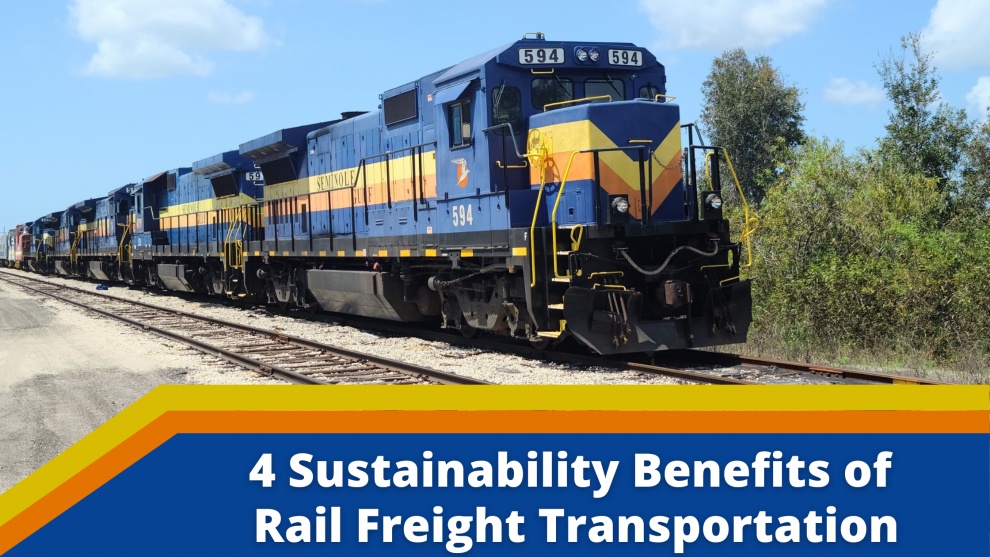 Image courtesy of Joseph E. Conner

American freight railroads are leading the way in protecting our valuable environment. For almost 200 years, rail freight has been a crucial part of the success of the U.S. economy, but much has changed over that time. American railroads have evolved to become more efficient, profitable, and eco-friendly.
Here are four reasons why rail freight transportation is the most environmentally sustainable supply chain solution in today's world.
1. RAILROADS ARE THE MOST FUEL-EFFICIENT METHOD OF MOVING FREIGHT OVER LAND
In 1980, U.S. railroads could haul one ton of freight 235 miles on a single gallon of fuel. While impressive, certainly, they knew that number could be improved upon—and improve on it they did! In 2013, a ton of freight could now be moved over 470 miles on the same gallon of fuel.
Compare that to the standard Class 8 Truck, which has an average fuel economy of just over 5 miles to the gallon, and you'll see why rail and intermodal freight are the far superior options.
2. TRAINS EMIT FAR FEWER GREENHOUSE GAS EMISSIONS
It's no secret that greenhouse gas emissions are directly tied to fuel consumption, so it should come as no surprise that railroads are far less harmful to the environment as well. In fact, according to the EPA, while railroads make up about 40% of U.S. freight, it only accounts for 1.9% of U.S. transport-related greenhouse gas emissions.
One of the reasons this number is so low is that in 2008, the EPA enacted stringent new regulations for locomotive emissions. They estimated that this would reduce nitrogen oxide emissions by 80% and particulate matter emissions by as much as 90%.
3. RAILROADS REDUCE HIGHWAY CONGESTION AND POLLUTION
Thanks in large part to the effects of the global pandemic, U.S. congestion numbers were the lowest they've been in over two decades. With that said, gridlocks and other highway-related inefficiencies still cost Americans over $100 billion in lost time (4.3 billion hours) and wasted fuel (1.7 billion gallons), according to the Texas Transportation Institute's 2021 Urban Mobility Report.
Fortunately, a single freight train can replace several hundred trucks, freeing up more road for fellow motorists. In addition, by moving more freight from trucks to rail, we can reduce the cost of heavy truck damage on our nation's aging highways by $1.5 billion each year.
4. RAIL FREIGHT COMPANIES ARE PIONEERING GREEN TECHNOLOGY SOLUTIONS
Thanks to new locomotive technology and other supply chain innovations, the rail freight industry has been able to limit its impact on the environment by ushering in the following advancements:
· Improved Railcar Design: Going back to 1980, not only has the fuel efficiency of trains doubled but so too has the capacity of an average rail car (2,222 tons in 1980 to 3,488 tons in 2013) thanks to vastly improved designs and other factors.
· More Efficient Engines: Railroads continue to add new "Genset" locomotives every year, which utilize several independent engines that can turn on and off depending on how much power is needed at the time.
· Anti-Idling Technology: New "start-stop" systems allow locomotives to automatically shut down when not in use and quickly restart when they're needed again.
· Distributed Power Systems: While it might be a strange sight to see a locomotive positioned in the middle of a train, this unorthodox method significantly reduces the total horsepower required to move the train.
· Improved Rail Lubrication: By cutting down on wheel-to-rail friction, freight companies not only save on fuel, but they also cut down on the amount of wear and tear to both the tracks and locomotives.
· Zero-Emission Cranes: Fully electric cranes have become an increasingly popular sight at trainyards and ports, thanks in large part to their ability to recharge their batteries every time they lower a load between ships, trucks, and trains.
SEMINOLE GULF IS YOUR SOUTHWEST FLORIDA SUSTAINABLE RAIL FREIGHT SOLUTION
At Seminole Gulf Railway, we are committed to doing our part to help protect the planet and usher in a new age of environmental excellence. We are a proud partner of the U.S. Freight Rail Network and the American Shortline and Regional Rail Association (ASLRRA).
American shortline railroads are truly America's innovators! Learn more about shortline environmental initiatives.
If you're looking to ship lumber, building materials, aggregates, plastics, LP gas, or any other commodities in Southwest Florida and beyond, we're the experienced partner you need. Since 1987, we've been providing our customers with rail freight transportation, transloading, regional trucking, and warehousing services. Contact us today to discuss your supply chain needs.