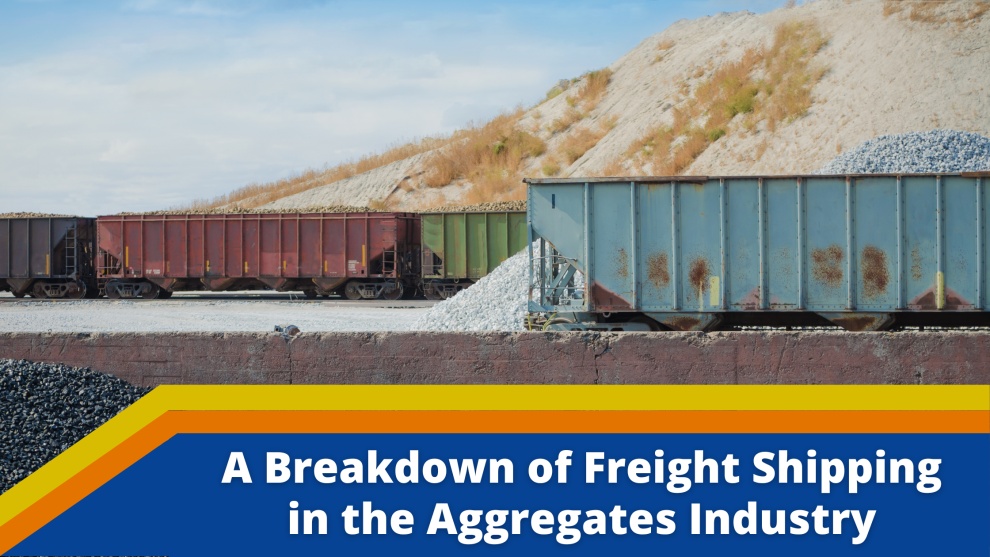 Hauling and shipping raw materials has long been essential for the aggregates industry. With the growth in demand for supplies such as sand, gravel, and rock, heavy reliance on effective freight shipping is more important now than ever before.
But just what does it take to get these supplies from one location to another quickly and reliably? From managing raw materials over long distances to finding cost-effective solutions to keep up with fluctuating demand, freight shipping and supply chain logistics play very important roles in this sector.
To ensure businesses succeed in their transport operations and become even more profitable, it's essential for professionals working within the aggregates industry to have a full understanding of all relevant aspects of freight shipping. With that goal in mind, here's a breakdown of the basics of freight shipping within this highly specialized industry.
WHAT ARE AGGREGATES?
Construction aggregates—often referred to as raw materials or simply aggregates—are an important building component in the construction and landscaping industries. Construction aggregate is a broad term that can refer to any number of coarse- to medium-grained particulate materials such as sand, gravel, rock, slag, and crushed stone.
COMMON AGGREGATE USES
Aggregates have many practical uses but often form the basis of subgrade foundations for road beds, track beds, new buildings, and drainage applications. Aggregates are also an essential component of composite materials such as concrete and asphalt, providing additional reinforcement. It is their strength, durability, and high hydraulic conductivity that make them an integral part of a wide range of construction projects.
WHERE ARE AGGREGATES SOURCED?
Aggregates are by far the most mined minerals in the world because they can be found in almost any environment. Sand and gravel account for the vast majority of these mining operations, with over 75% of all worldwide production. Most aggregate materials are sourced from areas close to construction sites, including river banks or shallow marine deposits. In some cases, transportation may be required from distant sources, such as quarries located hundreds or even thousands of miles away.
HOW ARE RAW MATERIALS TRANSPORTED?
If you're wondering how to transport gravel or how to transport sand—or any other bulk aggregate, for that matter—it's a rather rigorous process that requires the expertise of highly trained personnel. To ensure safety and efficiency, certain measures must be taken to pre-package, contain, and track shipments from their initial source to their final destination.
In most cases, aggregates are loaded directly into specialized rolling stock—usually in the form of open-top gondolas or hopper cars—for transport. Before departure, appropriate materials must be used to secure both the cargo and its packaging containers. Additionally, aggregate shipments may require special attention in terms of onboarding inspections as well as offloading protocols.
THE VALUE OF SHIPPING RAW MATERIALS BY RAIL
To maximize profit margins and move large amounts of raw materials quickly, freight railroads are a popular mode of transport for the aggregates industry. Unlike other modes of transportation, railroads can transport large amounts of materials quickly and cost-effectively over long distances without compromising on quality. Additionally, because railroads are not susceptible to traffic delays or road conditions, they provide greater control over scheduling and shipping times.
BENEFITS OF PARTNERING WITH SGLR FOR SHIPPING RAW MATERIALS
If your business is located in the Southwest Florida area, there are many reasons why utilizing Seminole Gulf Railway is the preferred method of shipping raw materials and other bulk aggregates.
These include:
Access to an expansive freight shipping network
A long history of aggregate industry expertise
A wealth of additional supply chain services
Cutting-edge logistics technology
Outstanding customer service

Whether you need to move aggregates, plastics, LP gas, or any other type of building materials or bulk freight, Seminole Gulf Railway is the experienced partner you want to get it where it needs to go, safely and cost-effectively.
Since 1987, we've been providing our customers with unmatched rail freight transportation, transloading, regional trucking, and warehousing services. Contact us today to discuss your unique shipping needs.