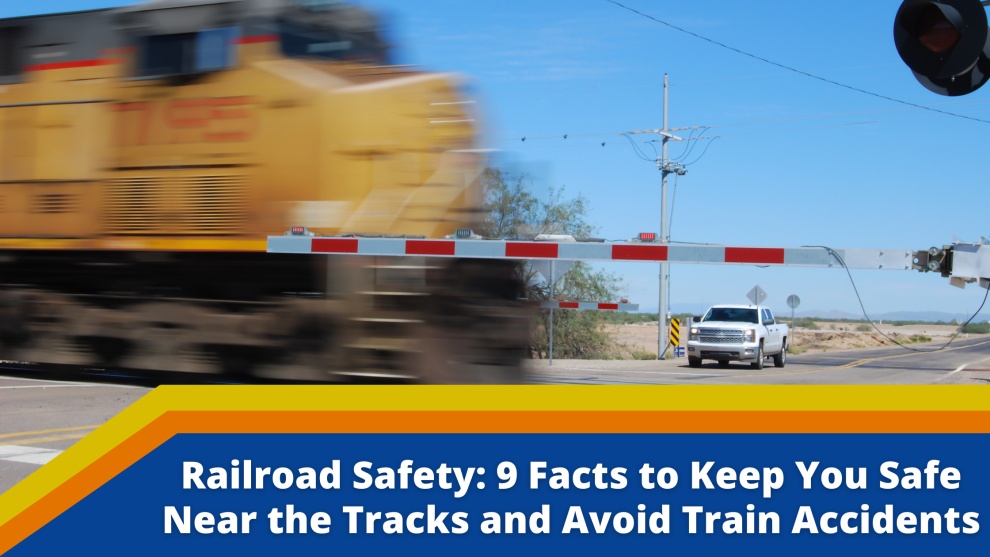 While trains are among the safest forms of transportation due to their incredible reliability, train accidents do still occur, however rare. According to the National Transportation Safety Board, since 1975, the average number of train accidents per year involving fatalities was 1.3, compared with 2,584 for aviation and 700 for buses.
Regardless of how safe trains are, it is still important to know how to stay safe around and near the train tracks. Follow these nine railroad safety tips to protect yourself near the tracks and help prevent avoidable train accidents!
FACT 1: IT'S ALWAYS TRAIN TIME
Freight trains do not travel at fixed times, and passenger train schedules change frequently. Rail is a 24/7 operation, so it is important to always remain vigilant, even in the middle of the night. For each highway-rail intersection you see, always expect a train!
FACT 2: TRAINS DO NOT STOP QUICKLY
Did you know that an average freight train traveling at 55 mph takes more than a mile to stop? That's the length of 18 football fields! Trains cannot stop on command, so always yield to the train because the train will not yield to you.
FACT 3: TRAINS ALWAYS HAVE THE RIGHT OF WAY
100% of the time, trains have the right-of-way over cars, buses, pedestrians, bicycles, and even the police. There is no instance in which a train will be expected to stop for anyone else.
FACT 4: TRAINS ALWAYS WIN IN A TRAIN VS. CAR SCENARIO
The average train weighs anywhere between 200 tons (400,000 pounds) and 6,000 tons. This ratio can best be described as a pop can to a car. For reference, the average car weighs 4,094 pounds. We all know what would happen when a pop can gets hit by a car. In any train vs. car scenario, the train will win.
FACT 5: TRAINS ARE WIDER THAN THE TRACKS
People often think they can stand next to the side of the train tracks and be fine. For your safety, do not stand alongside the tracks. Trains can extend 3 or more feet past the track on either side, making the safe zone well beyond three feet for pedestrians. For vehicles, the safety zone should be 15 feet on either side of the tracks.
FACT 6: TRAINS TRAVEL IN BOTH DIRECTIONS
Trains can be traveling in any direction. Tracks are not one way, so if you see a train going east on a track, you could also see one going west. Secondly, locomotives can both push and pull their cars. This is important to keep in mind because the location of the locomotive is not always a good indication of the direction in which it is traveling.
FACT 7: TRAINS CAN SNEAK UP ON YOU
Thanks to better wheel-to-rail lubrication and Thanks to better wheel-to-rail lubrication and other improvements to infrastructure and railcar design, trains are significantly quieter than they used to be. You don't always hear that loud "clacking sound" anymore. This means that trains can be closer than they appear and move faster than you think.
FACT 8: THE ONLY SAFE PLACE TO CROSS IS AT DESIGNATED CROSSINGS
Do not cross train tracks at any other point besides the designated crossings. These have warning signs, lights, and signals meant to keep you safe. It is the safest and only legal option when needing to cross the tracks.
FACT 9: TRACKS ARE PRIVATE PROPERTY
Remember to never walk on the tracks. Not only is it unsafe but also because it is illegal! Train tracks are private property, so walking on them is considered trespassing.
FINAL TAKEAWAYS ON RAILROAD SAFETY
While trains may be one of the safest modes of transportation, it's important to remember how to stay safe at and around the tracks. To learn more information about track safety and how to stay safe around trains, visit operation lifesaver. Operation lifesaver is a non-profit organization founded in 1972, and recognized leader in rail-safety education.
Seminole Gulf Railway is the experienced freight shipping partner you need. Since 1987, we've been providing our customers with unmatched rail freight transportation, transloading, regional trucking, and warehousing services. Contact us today to start hauling your goods with a partner you can trust.