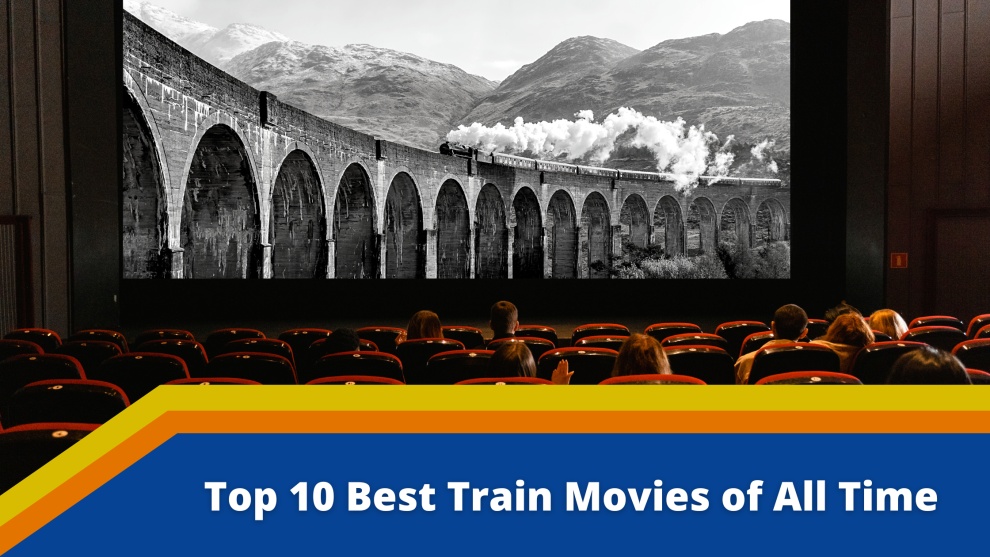 It would be safe to say that we're train enthusiasts here at Seminole Gulf Railway. But what you might not know is that we're also pretty big film buffs. After the sun goes down or when the weather isn't ideal (which isn't too often here in Southwest Florida), we love to sit down, pop some popcorn, and get lost in a good movie.
That got us thinking, though, why not combine our two interests?
To that end, our team put our heads together and came up with our definitive list of the ten best films set primarily on a train. If your interests are at all aligned with ours, you're sure to love every one of these movies as much as we do!
So, without further ado, here are our picks for the ten best movies about trains.
10. THE GREAT TRAIN ROBBERY
The Great Train Robbery is a classic 1978 film directed by acclaimed author Michael Crichton and based on his 1975 novel of the same name. The movie stars the legendary Donald Sutherland, Lesley-Anne Down, and "Bond, James Bond" himself, Sean Connery.
From IMDB: England, 1850s. A master criminal aims to rob a train of a large sum of gold. Security is incredibly tight and the task seems an impossible one. However, he has a plan and just the right people to carry it out.
9. EMPEROR OF THE NORTH
The second 1970s film to make our list,
Emperor of the North
is a movie directed by Robert Aldrich, who is best known for directing such classics as
The Flight of the Phoenix, The Dirty Dozen,
and
The Longest Yard.
This movie stars the likes of Lee Marvin, Ernest Borgnine, and Keith Carradine.
From IMDB: In 1933, during the Depression, Shack the brutal conductor of the number 19 train has a personal vendetta against the best train hopping hobo tramp in the Northwest, A No. 1.
8. STRANGERS ON A TRAIN
We simply couldn't assemble a list of top train movies without including this 1951 Alfred Hitchcock classic. Like many of his other films, the plot of Strangers on a Train is full of unexpected twists and turns. It stars Farley Granger, Robert Walker, and Ruth Roman in lead roles.
From IMDB: A psychopath forces a tennis star to comply with his theory that two strangers can get away with murder.
7. VON RYAN'S EXPRESS
Von Ryan's Express is a 1965 action-adventure film set during the second great war and directed by Mark Robson. It stars Trevor Howard, Rafaella Carra, and the "Chairman of the Board" himself, Frank Sinatra.
From IMDB: An American POW leads a group of mainly British prisoners to escape from the Germans in WWII.
6. SILVER STREAK
Billed as "the most hilarious suspense ride of your life," Silver Streak is directed by Colin Higgins and stars the inspired comedic duo of Gene Wilder and Richard Pryor. Strangely enough, it's not the only movie to involve a scene with Richard Kiel (a.k.a. Jaws) and a man being thrown out of a moving train.
From IMDB: On a long-distance train trip, a man finds romance but also finds himself in danger of being killed, or at least pushed off the train.
5. THE DARJEELING LIMITED
If you're a fan of Wes Anderson, then The Darjeeling Limited is the train movie for you. This quirky, 2007 indie flick stars three of Anderson's most familiar faces at their finest: Owen Wilson, Adrien Brody, and Jason Schwartzman.
From IMDB: A year after their father's funeral, three brothers travel across India by train in an attempt to bond with each other.
4. TRAIN TO BUSAN
As the only foreign film and horror entry on this list, 2016's Train to Busan makes a compelling case for one of the best train movies of all time. If fast zombies and subtitles don't turn you off, it's absolutely worth the watch! You won't look at passenger trains the same way ever again.
From IMDB: While a zombie virus breaks out in South Korea, passengers struggle to survive on the train from Seoul to Busan.
3. THE TAKING OF PELHAM 123
This is a rare entry on the list in that we truly enjoy both the 1974 classic and its 2009 remake. While the original The Taking of Pelham 123 stars Walter Matthau as the train dispatcher and Robert Shaw as the subway hijacker, the remake ups the ante with Denzel Washington and John Travolta in corresponding roles.
From IMDB: Four armed men hijack a New York City subway car and demand a ransom for the passengers. The city's police are faced with a conundrum: Even if it's paid, how could they get away?
2. 3:10 TO YUMA
Another remake of a 1957 classic, 3:10 to Yuma is a staple of the train Western subgenre. The 2007 James Mangold-directed film stars Russel Crowe and Christian Bale in the leading roles.
From IMDB: A small-time rancher agrees to hold a captured outlaw who's awaiting a train to go to court in Yuma. A battle of wills ensues as the outlaw tries to psych out the rancher.
HONORABLE MENTIONS
Before we get to our number one pick, we first need to call out some of the great train movies that unfortunately didn't make our top ten. These are all still very good movies in their own right, and we recommend you give each of these honorable mentions a watch.
1. THE GENERAL
When it came time to make our pick for the greatest train movie of all time, the decision was a real no-brainer. It simply had to be Buster Keaton's most beloved film, 1926's The General. This movie was truly groundbreaking for cinema and likely inspired every other film on this list.
We think the great Orson Welles said it best: [The General is] "the greatest comedy ever made, the greatest Civil War film ever made, and perhaps the greatest film ever made."
From IMDB: After being rejected by the Confederate military, not realizing it was due to his crucial civilian role, an engineer must single-handedly recapture his beloved locomotive after it is seized by Union spies and return it through enemy lines.
NOW IT'S TIME TO GET WATCHING
That concludes our list of the ten best train movies that the world of cinema has to offer. What do you think? Did we miss your favorite train movie? Let us know!

In the meantime, if you're looking for a Florida-based rail shipping partner, we hope you'll consider the freight and logistics experts at Seminole Gulf Railway. Whether you need to move building materials, aggregates, plastics, LP gas, or any other type of freight, we're the experienced partner you want to get it where it needs to go—safely and cost-effectively.
Since 1987, we've been providing our customers with unmatched rail freight transportation, transloading, regional trucking, and warehousing services. Contact us today to discuss your unique shipping needs.