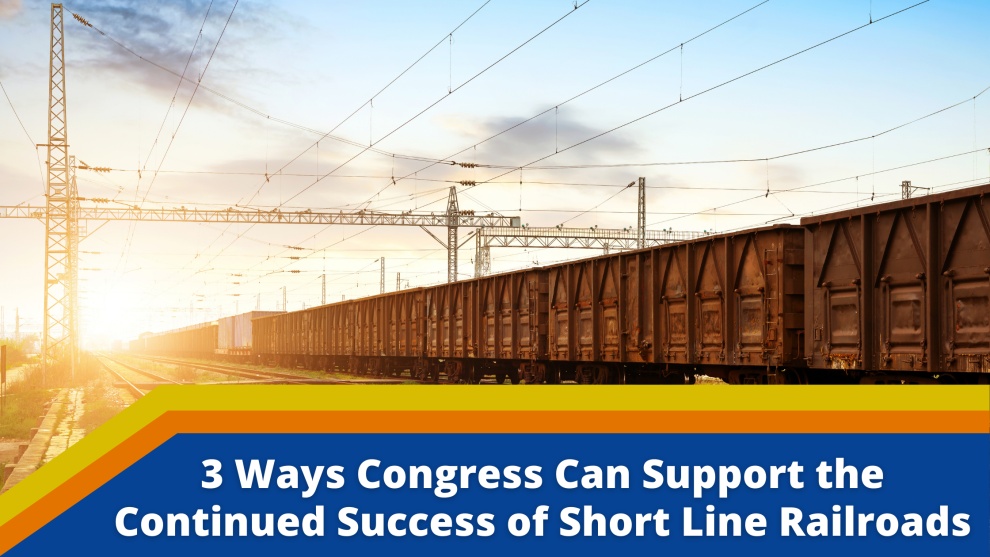 On November 15, 2021, President Biden signed the Infrastructure Investment and Jobs Act (IIJA), or as it's more commonly known, the Bipartisan Infrastructure Law. This monumental "Building a Better America" initiative covers everything from refurbishing dilapidated roads and bridges to investing in clean energy and water, but it leaves many of us wondering . . .
HOW WILL THE BIPARTISAN INFRASTRUCTURE LAW IMPACT THE RAIL INDUSTRY?
One primary goal of the bill is to provide unprecedented Federal funding for both passenger and freight rail improvement projects all across America. What this means is that over the next five years, national, regional, and short line railroad companies will be able to apply for grant programs to help make our national rail network safer, more reliable, and significantly more sustainable.
Unfortunately, of the $1.2 trillion in spending, the Bipartisan Infrastructure Law invests only $102 billion in total rail funding. This will include roughly $66 billion from advanced appropriations and $36 billion in authorized funding.
While this funding is much needed and certainly a great start, smaller short line companies—Seminole Gulf Railway included—would still like to see more from the Federal Government. Here are three ways Congress can provide further support to short line railroads to ensure continued success and the ability to adequately serve their communities for generations to come.
1. ENSURE EQUAL OPPORTUNITY FOR FEDERAL GRANT PROGRAMS
One key way that Congress can help support shortline railroads is by directly overseeing federal grant programs designed specifically for this sector of the industry. These grants could fund many projects aimed at improving rail infrastructure and enhancing safety in smaller markets, which have historically been self-funded by short line railroads.
The problem is that the five American-owned Class 1 railroads are likely to demand a lion's share of the $102 billion in funding. Instead, with Congress' help, these grants could be used to help smaller companies make much-need repairs, such as expanding track capacity or upgrading signal systems. Or, they could use that funding to invest in new technologies and innovative solutions that will help them compete with the larger rail companies.
2. PROHIBIT INCREASES IN TRUCK WEIGHT LIMITS
Another way that Congress can support short line railroads is by working to prevent increases in truck size and weight limits along key freight corridors. There has been a push lately—spearheaded by lobbyists in the trucking industry—to increase truck weight limits from 80,000 lbs. to 91,000 lbs. However, truckers are already a major threat to rail companies, as they often compete for the same shipments along shared corridors.
By preventing further increases in truck-size limits, Congress can help level the playing field and ensure that short line railroads are able to continue providing an efficient and cost-effective shipping option for their customers. In addition, research has shown that larger trucks would put more strain on our nation's aging roads and bridges, as well as pose a greater safety risk to other motorists—which goes against the entire spirit of the infrastructure bill in the first place.
3. REFRAIN FROM UNNECESSARY CREW SIZE MANDATES
In the past, Congress has mandated that all freight trains must be operated by a minimum crew of two people. While this may seem like an obvious safety measure, it actually puts an unnecessary burden on small railroads—particularly those that operate on single-track rails—as they often do not have the same resources as larger players in the industry.
In fact, many short line railroads have been able to safely operate with a single-person crew for years, thanks to advances in technology and training. As such, Congress should refrain from any future mandates that would force these companies to needlessly increase their crew sizes.
FINAL THOUGHTS ON THE FUTURE OF RAIL INFRASTRUCTURE
If Congress can work to support short line railroads by providing equal opportunities for grant funding, prohibiting increases in truck weight limits, and avoiding unnecessary crew size mandates, it will help ensure that these smaller companies are able to remain competitive and continue delivering on their promise to serve their communities for years to come.


Whether you need to move building materials, aggregates, plastics, LP gas, or any other type of freight, Seminole Gulf Railway is the experienced partner you want to get it where it needs to go, safely and cost-effectively.
Since 1987, we've been providing our customers in Southwest Florida and beyond with unmatched rail freight transportation, transloading, regional trucking, and warehousing services. Contact us today to discuss your unique shipping needs.