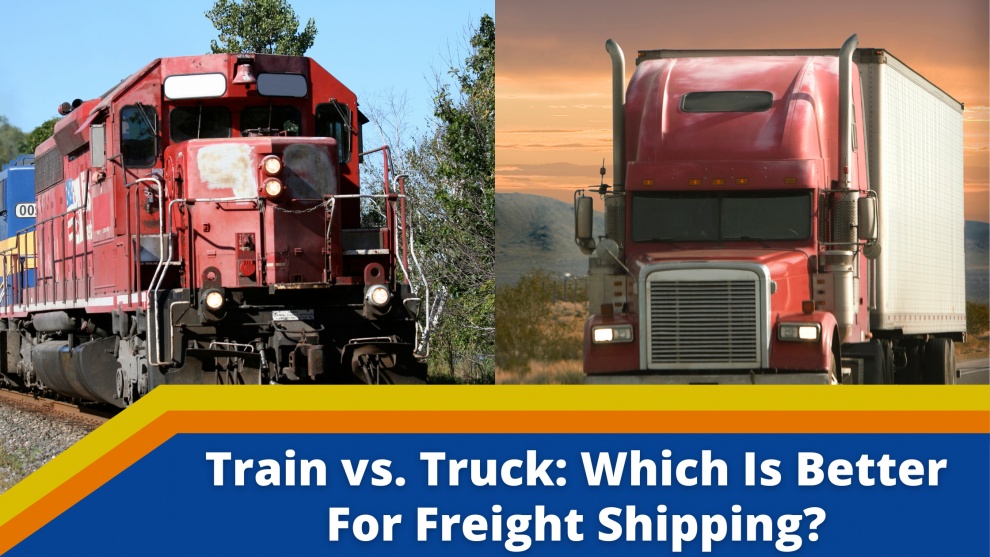 Truck or train? Road or rail? The big rig or the iron horse? Whatever you want to call them, these two heavy hitters of the freight shipping industry have been battling it out for decades.
But when it comes to hauling your goods around the country, which mode of transport reigns supreme? Let's find out!
SHIPPING BY TRAIN VS. TRUCK
In order to determine which one is the better freight shipping option, we pitted them head-to-head in the following five categories:
Cost
Speed
Capacity
Reach
Environmental impact (emissions)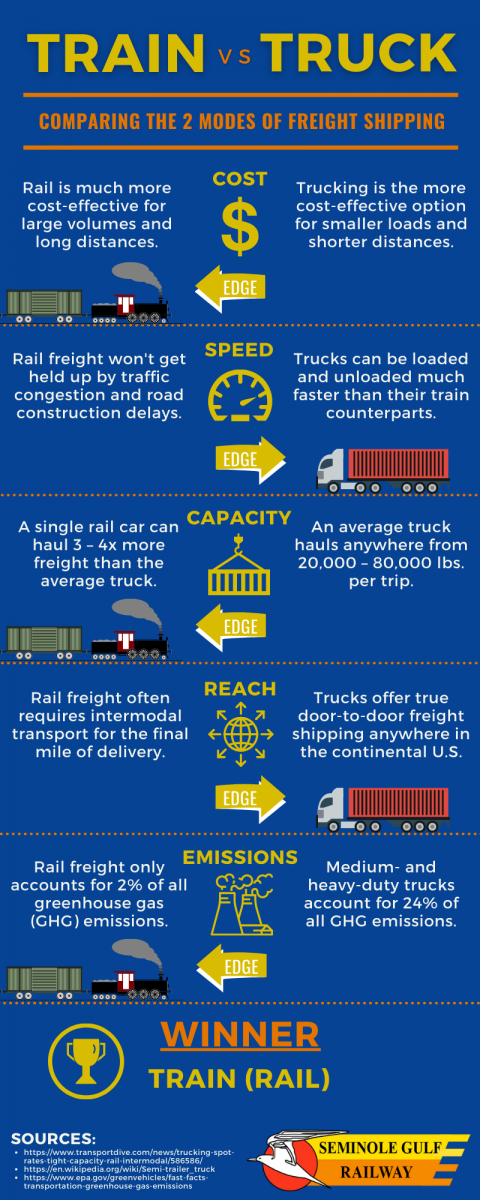 COST
If you're hauling goods crosstown or even intrastate, trucking may be the better bargain. It's also a good consideration if your volume doesn't even fill one rail car. However, for longer journeys—especially those over 600 miles—shipping by rail is the far more cost-effective option.
For example, let's say you need to move a bulk commodity from Houston, TX to Cleveland, OH. Shipping directly by rail would cost you $70.27 per net ton, whereas an over-the-road truck would set you back $214.96. That's more than 3x as much!
SPEED
When it comes to speed, volume and distance once again play a large part. Since trucks can be loaded and unloaded faster and can go nearly anywhere on the map, they are ideal for time-sensitive and perishable items.
Where trains make up a lot of ground though is on longer hauls. Traffic congestion, inclement weather, and road construction delays have hardly any effect on their ETA.
CAPACITY
While semi-trailer trucks can haul quite a bit of cargo, there is really no comparison when it comes to capacity. The U.S. Federal Government has a mandated maximum weight of 20,000 lbs. per axle, and up to 80,000 lbs. total.
A single rail car, on the other hand, can hold anywhere from 3–4x times as much total weight. In fact, one train can take the place of several hundred trucks on the road.
REACH
If your business has a railroad in your backyard, you really do have it made. Unfortunately, that's not the case for the majority of companies. That's why the majority of rail freight requires intermodal transport—such as train to truck or train to ship—to get the product to its final destination.
Fortunately, trucks have it much easier since they have access to our nation's expansive highway system and other service roads. Even though it may cost you more to ship, some businesses prefer the simplicity of only having to deal with one mode of transport.
EMISSIONS
One of the major reasons rail freight shipping is making a huge resurgence is the fact that it's a far better option for the planet. According to a study by the Environmental Protection Agency, trains only account for 2% of all transportation-related greenhouse gas emissions. Medium- and heavy-duty trucks, on the other hand, account for nearly a quarter of all emissions.
If you want to learn more about how efficient, profitable, and eco-friendly trains really are, read our recent post about the 4 Sustainability Benefits of Rail Freight Transportation.
AND THE WINNER IS…
It should come as no surprise that when you factor in the overall cost, speed, capacity, reach, and environmental impact, shipping freight by train is the superior method in more situations.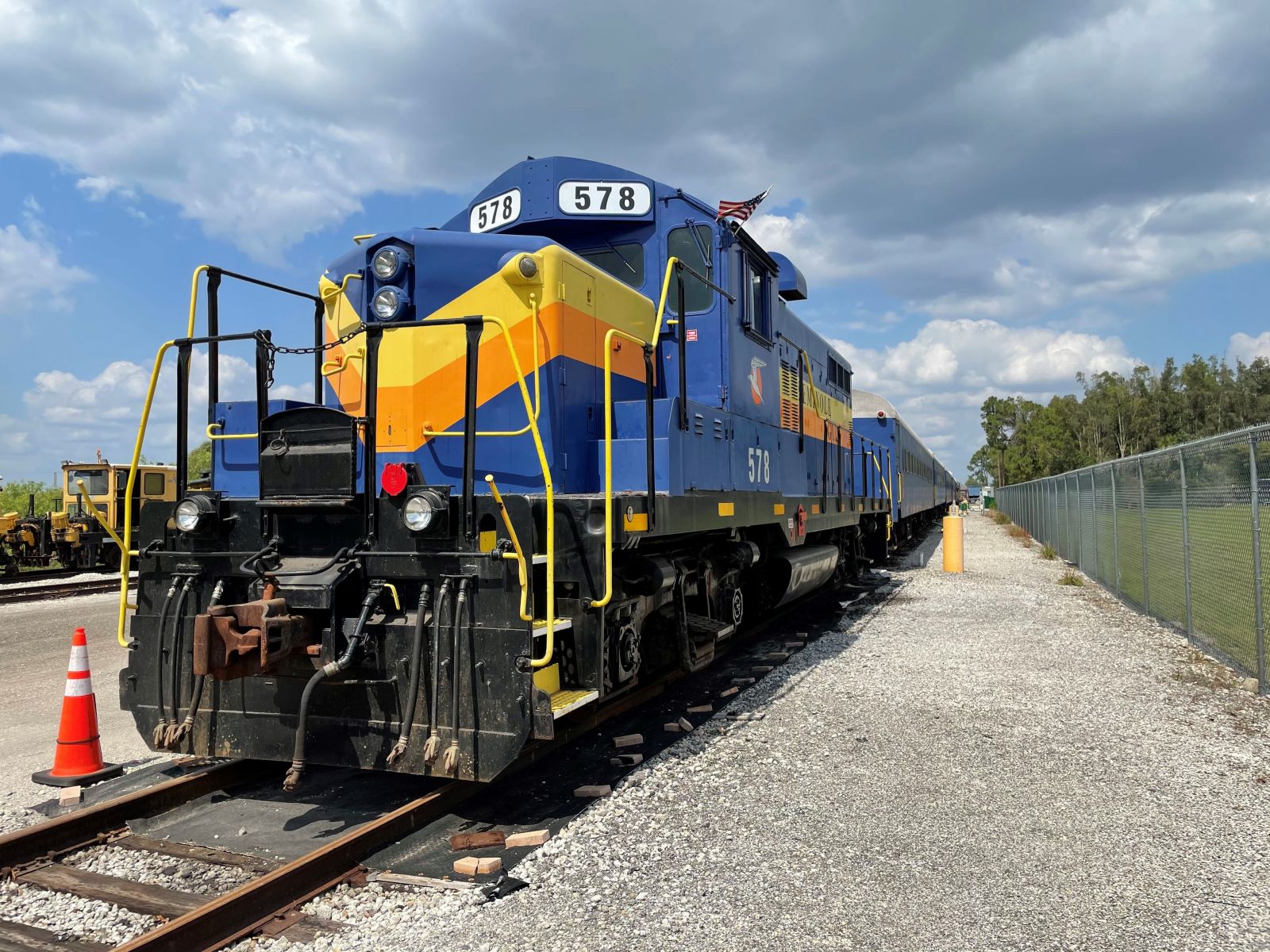 If you're looking to ship lumber, building materials, aggregates, plastics, LP gas, or any other commodities in Southwest Florida and beyond, Seminole Gulf Railway is the experienced partner you need.
Since 1987, we've been providing our customers with rail freight transportation, transloading, regional trucking, and warehousing services. Contact us today to discuss your supply chain needs.