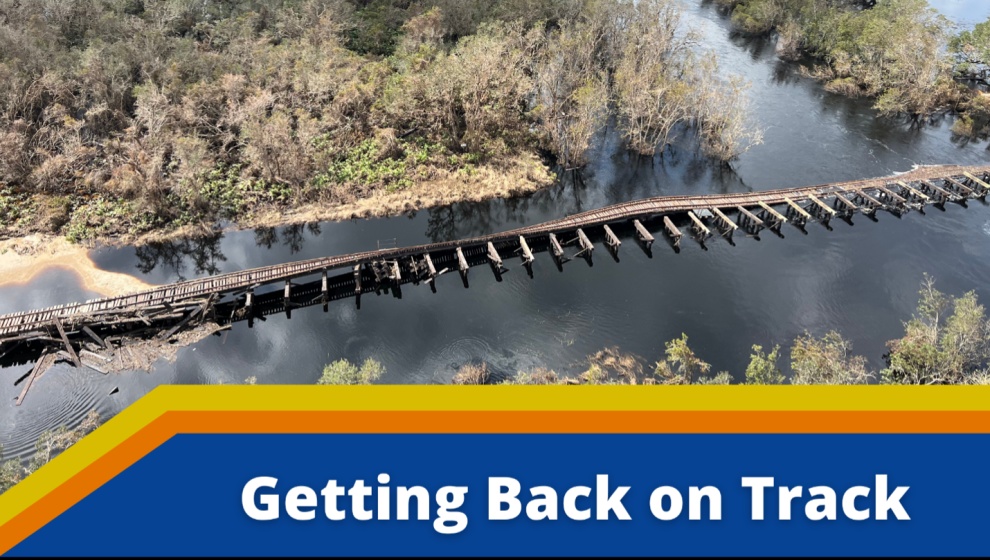 SEMINOLE GULF FACES A LONG ROAD TO RECOVERY FOLLOWING HURRICANE IAN
Seminole Gulf Railway was Southwest Florida's engine for growth and recovery . . . until Hurricane Ian had other plans. On Wednesday, September 28, 2022, Ian—a Category 4 hurricane—struck Southwest Florida with driving rain and 155 mph winds.
Our region was devasted, with few communities left untouched. Thousands of homes were destroyed, hundreds of businesses were underwater, and over 1.5 million people were left without power and forced endure to the daunting, months-long task of rebuilding—yet again.
Amongst those facing catastrophic damage is Seminole Gulf Railway (SGLR), the Class III shortline freight railroad that serves as a critical supply line for Southwest Florida. By damaging or destroying at least six rail bridges and inflicting millions of dollars of damage, Hurricane Ian effectively severed the area's only connection to the North American Rail Network.
"It's going to be a long road to recovery," wrote SGLR Vice President Laura Fay.
ASSESSING THE STORM DAMAGE
Along with hurricane-force winds, Ian slammed the Fort Myers area with a historic storm surge that raced several miles up the Caloosahatchee River and destroyed the three railroad bridges traversing the southern half of the river toward Beautiful Island.



Caloosahatchee River System:
Caloosahatchee River "Main Channel" (Mile Post AX959.6 – 1,100 feet): DAMAGED
Caloosahatchee River "Tice 1" (Mile Post AX960.2 – 297 feet):

DESTROYED

Caloosahatchee River "Tice 2" (Mile Post AX960.3 – 391 feet):

DESTROYED

Caloosahatchee River "Tice 3" (Mile Post AX960.5 – 255 feet):

DESTROYED
Total affected length of the Caloosahatchee River System of bridges: 2,043 feet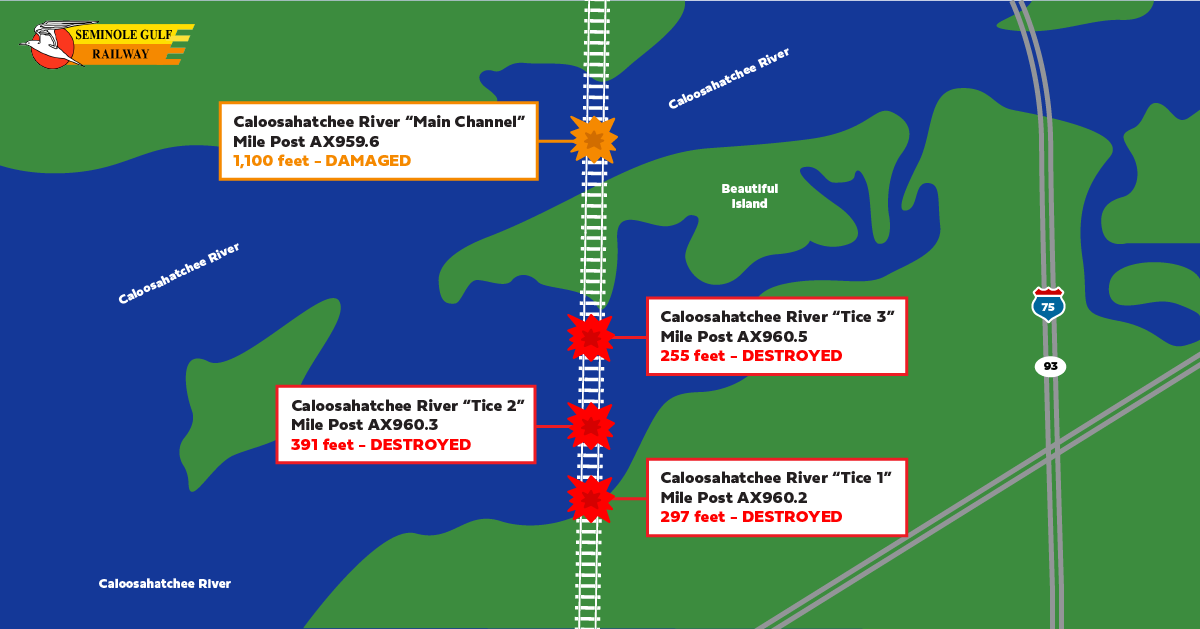 As Ian continued to plow through Charlotte and Desoto counties towards Central Florida, it dumped enormous amounts of rain across the rural areas. All that rainwater then traveled back to the Gulf of Mexico down the Myakka and Peace Rivers. Those historic flood waters washed away the railroad bridge system over the Peace River just North of Arcadia, FL.



Peace River System:
Peace River "Main Channel" (Mile Post SVC882.5 – 1,080 feet): DESTROYED
Peace River Span 2 (Mile Post SVC883.2 – 381 feet): DAMAGED
Peace River Span 3 (Mile Post SVC883.4 – 128 feet): MINOR ISSUES
Total affected length of the Peace River System of bridges: 1,589 feet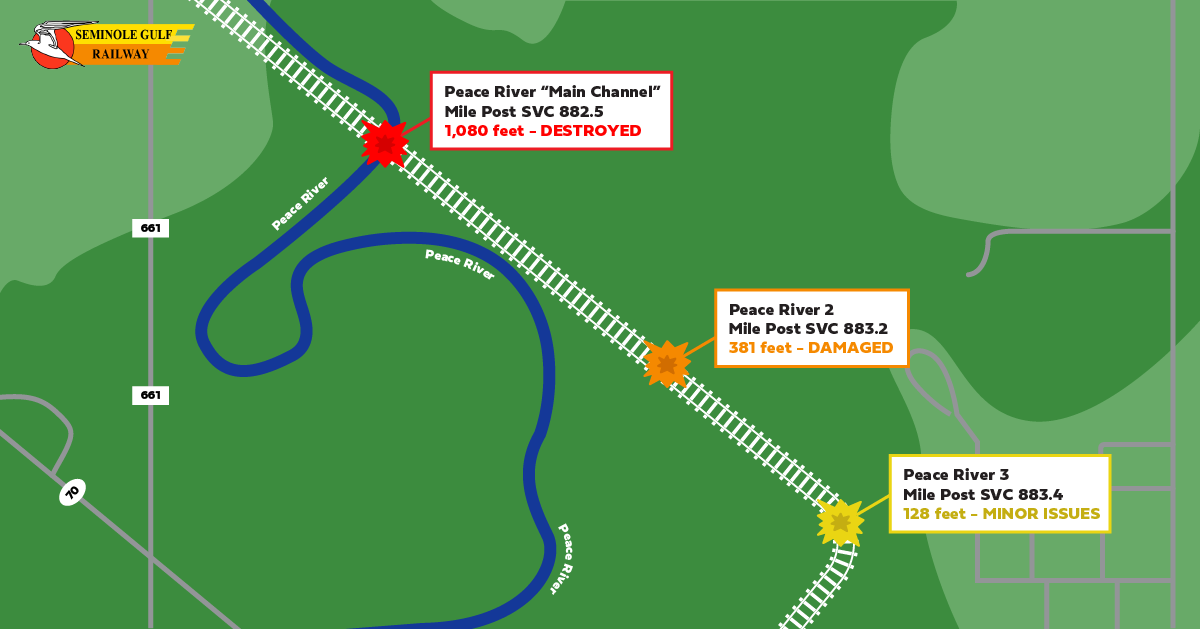 The total length of destroyed bridges is approximately 2,023 feet between the two river systems, with another 1,609 feet of damage that will also require repairs.
Other Railroad Sections
In addition to the bridge structures, roughly 7,000 feet of track was damaged by Hurricane Ian. This includes flooded tracks, debris-covered rail lines, and a destroyed locomotive barn.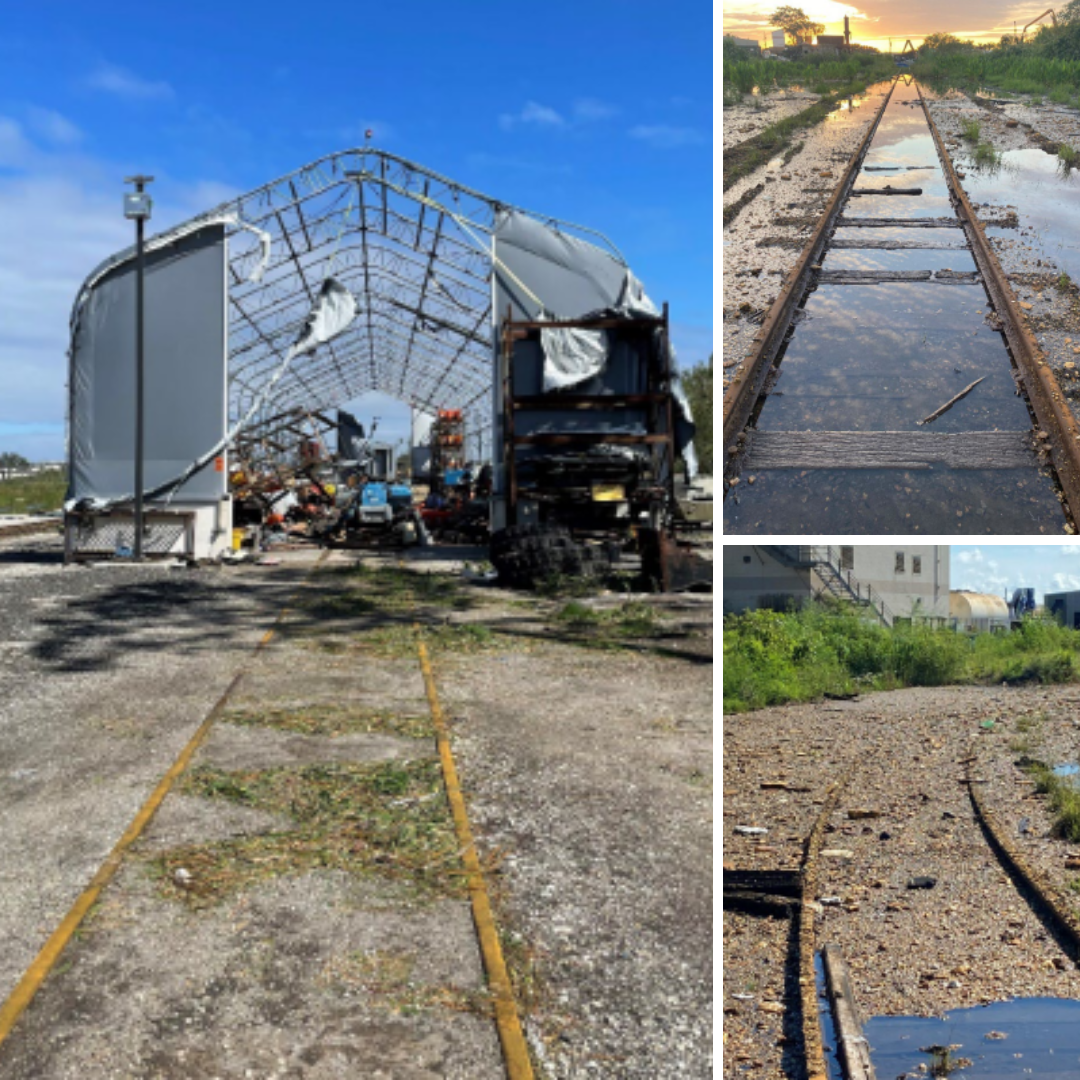 "It's unlike anything we've ever seen," said SGLR Vice President Rob Fay.
Much of this damage was in the Arcadia freight yard, which is still partially underwater. This resulted in further loss of motive power, access to heavy equipment, and a vital link to CSX Transportation, a Class I freight railroad that connects Southwest Florida businesses with the North American Rail Network. Restoring this freight yard will be an essential step to improving overall capacity and operational flow to support the other rebuilding efforts in the area.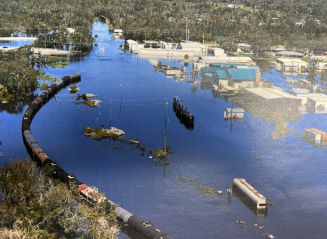 While railway engineers and insurance adjustors are still making final damage assessments, the current estimated total to reestablish full rail service for Seminole Gulf Railway is a sum the railroad cannot handle entirely on its own.
A PLEA FOR FEDERAL AID
Seminole Gulf Railway is seeking federal and state support to help restore its critical rail infrastructure. The current timeframe to restore rail service is being measured in months—not weeks—which is completely unacceptable in an area that needs our help now more than ever.
The loss of SGLR's freight rail service further hinders local storm recovery efforts, as the railroad is responsible for hauling a significant portion of the region's lumber, plywood, drywall, rebar, and other crucial building supplies.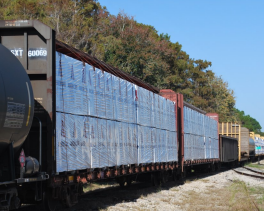 SGLR typically moves around 2,500 carloads of freight on the Arcadia to North Naples line each year, which is roughly the equivalent of 10,000 truckloads. And when thousands of homes and local businesses are in need of rebuilding, "that amount can TRIPLE," says Fay.
Unfortunately, SGLR's efforts to obtain much-needed federal and state emergency funding have hit a number of unnecessary roadblocks, including agency double-speak and government red tape.
In the meantime, SGLR has been working with the American Short Line and Regional Railroad Association (ASLRRA) to connect with Florida's congressional offices in an effort to help with disaster relief. Attempts are also being made to get short- and long-term relief passed in some kind of legislative bill once lawmakers return to Capitol Hill following midterm elections.
WHY SOUTHWEST FLORIDA NEEDS A RESTORED RAIL NETWORK
The closure of SGLR has put significant strain on an already-overloaded supply chain. Though I-75 is no longer flooded, it continues to be backed up with people and supplies heading in and out of the area.
As a temporary measure, SGLR has begun rerouting freight to its Sarasota division. Unfortunately, this requires the cargo to be manually unloaded from the trains and placed onto trucks for the remainder of the trip to Fort Myers or Naples.
This additional reliance on trucking is leading to further roadway congestion and shipping delays. While it's working for now, this is far from a permanent solution.
"We need to get the trains rolling again," said Fay.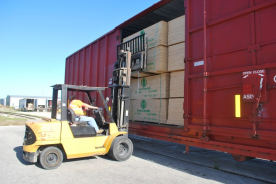 The restorative impact of freight rail:
Just one railcar can haul 117,500 board feet of drywall—that's enough to complete over 150 bedrooms!
One railcar can contain enough plywood to replace 50 roofs (assuming an average, 2,000 sq. ft. home).
Seminole Gulf Railway normally transports almost $80 million of drywall and plywood per year!
In addition to building materials, SGLR regularly transports essentials such as food, fuel, and plastics.
Seminole Gulf Railway is also responsible for hauling the LP gas and electrical transformers needed to power the region.
SGLR transports stone, crushed rock, and other aggregates which are used for restoring washed-out road beds.
That's not to mention the many economic impacts of restored freight rail service in the area.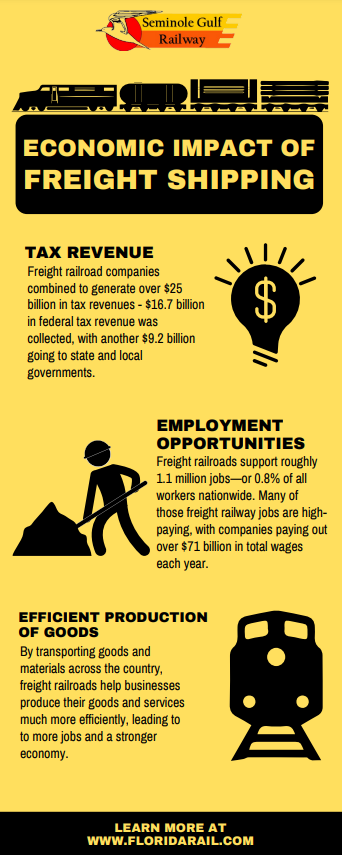 The Seminole Gulf Railway is also home to the renowned Murder Mystery Dinner Train. This restaurant theater has been a popular attraction in Fort Myers since 1991, serving well over 20,000 people per year.

The Caloosahatchee River crossing is one of the highlights of the unique dining experience. Because of this, the dinner train is also temporarily closed until the river crossing is restored and guests can enjoy the 3.5-hour, 40-mile round trip in its entirety.
FINAL THOUGHTS
Southwest Florida is home to over 1.5 million people, which is more than the entire state of Maine—in only 1/7 of the land area! Not to mention the countless lives lost, Hurricane Ian is responsible for over $47 billion in losses.
We need your help to restore our critical infrastructure and get our hard-hit community back on its feet. Please join us in our efforts to fast-track the emergency funding we so desperately need!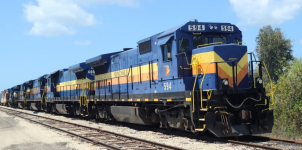 For more information, please contact:
Robert Fay, EVP—Seminole Gulf Railway, LP
[email protected]
239-340-0956