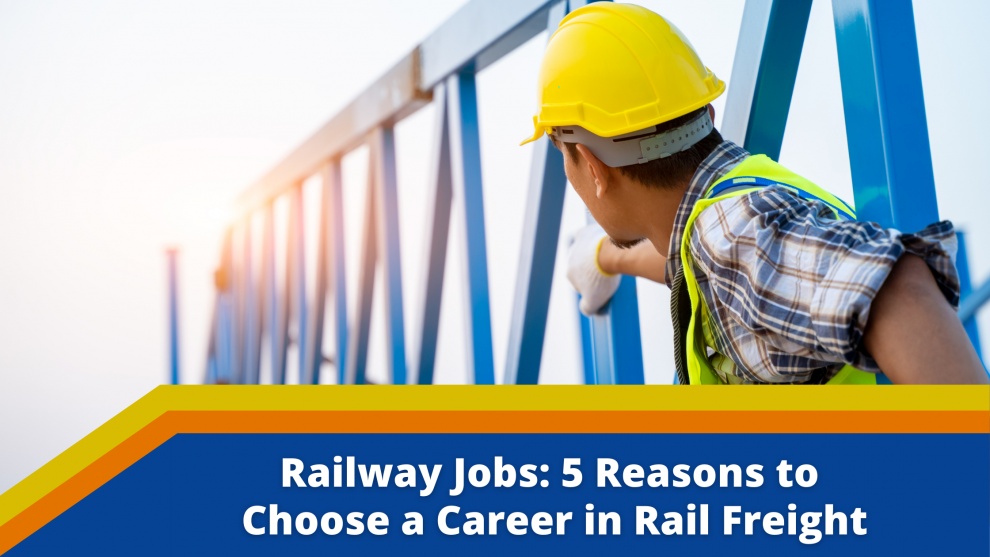 Every day, millions of people around the world are searching for a new career—are you one of them? Whether you're fresh out of school or simply looking for a new challenge, the rail industry offers some of the most rewarding job opportunities you will find.
Regardless of your skills, experience, and walk of life, there exists the perfect railway job for you—if only you know where to look. Are you still on the fence? Here are five compelling reasons to choose a career in the rail freight industry.
1. YOU GET TO SEE THE WORLD
If you're an adventurous soul, a career in rail can take you just about anywhere you'd like to go. Class I and short line rail companies operate in 49 states and opportunities for good work are plentiful in major cities and rural communities alike.
In fact, the United States isn't even the only country experiencing major rail expansion. Railroad jobs are in high demand all over Europe and many parts of Asia. The only question is: where would you like to go? (We hear the weather's pretty nice in Southwest Florida this time of year.)
2. THE PAY IS GREAT
While money isn't everything, it sure doesn't hurt when looking at potential new careers. According to PayScale, the average salary for someone in the rail freight transportation industry is $81,000 per year. Of course, these figures can vary quite a bit, depending on the position, location, and level of experience you bring to the table.
Average Salaries by Position in the Rail Freight Transportation Industry:
Freight Broker: $40,000
Freight Conductor: $51,000
Mechanical Engineer: $68,500
Train Dispatcher: $76,927
Terminal Manager: $84,588
Locomotive Engineer: $97,000
Logistics Manager: $102,500
VP of Operations: $143,116
3. THE WORK IS VARIED
There are many jobs out there where the work is pretty much the same, day in and day out. Such is not the case in the rail industry! No matter your educational background, it's easy to build on your existing strengths while picking up plenty of new, valuable skills as your career develops.
In addition, the rail freight sector requires a wide variety of different specialties. From mechanical and electrical engineering to telecoms and track maintenance, there are so many different skill sets that are needed and rewarded up and down the rails.
4. YOU GET TO HELP BUILD A MORE SUSTAINABLE FUTURE
If you're looking to make an impact on the future of our world, the rail freight industry is a great place to do it. American freight railroads are leading the way by:
Follow any of the links above to learn more about the incredible sustainability benefits of rail freight transportation.
5. YOU'LL HAVE A CAREER FOR LIFE
If you're constantly worried about job security, the rail freight industry is a great place to forget all about those fears. While many major industries are losing jobs to automation and overseas workers, domestic freight companies are currently—and will continue to be—in high demand for hard workers and specialists for many years to come.
Anyone who says the rail industry is dying has clearly not looked at the numbers. According to a new study by Global Industry Analysts Inc., the U.S. rail freight industry was a $56 billion business in 2021, hauling over 1.7 billion tons of raw materials and finished goods. We think it's safe to say the rail freight industry is here to stay!
START YOUR REWARDING CAREER TODAY AT SEMINOLE GULF RAILWAY
Since 1987, Seminole Gulf Railway has been providing its customers in Southwest Florida and beyond with unmatched rail freight transportation, transloading, regional trucking, and warehousing services. We operate over 100 miles of track between North Naples and Arcadia, and own and manage a fleet of railcars rolling all throughout North America.
Oh, and did we mention we're hiring? From track laborers to freight conductors, we're always on the lookout for smart and hardworking individuals to join our growing team. View our current railway job openings to learn more and apply today.