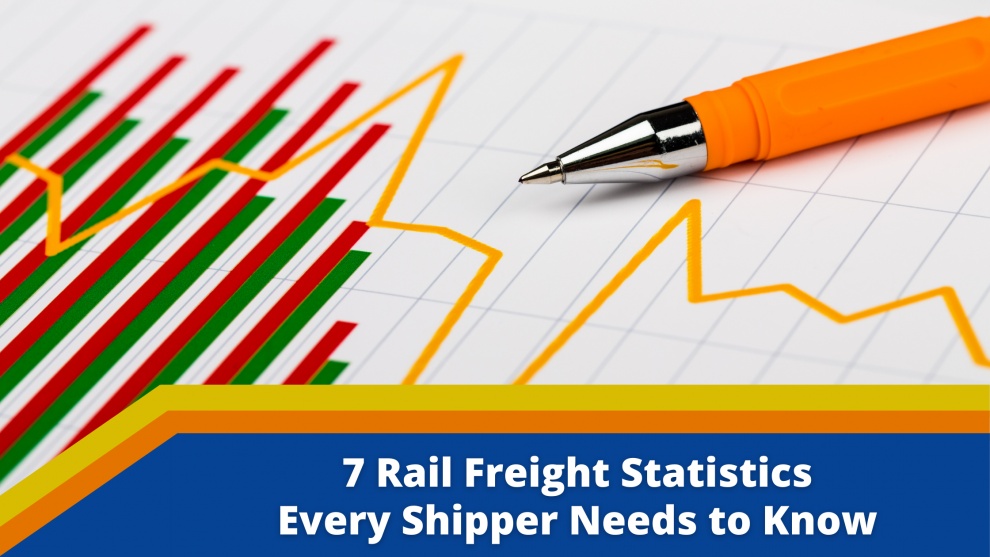 If you've ever seen a freight train operating up close, you're well aware of how impressive they can be. But after reading the seven rail freight statistics below, you might gain a whole new appreciation for America's largest, safest, and most environmentally-friendly freight shipping sector.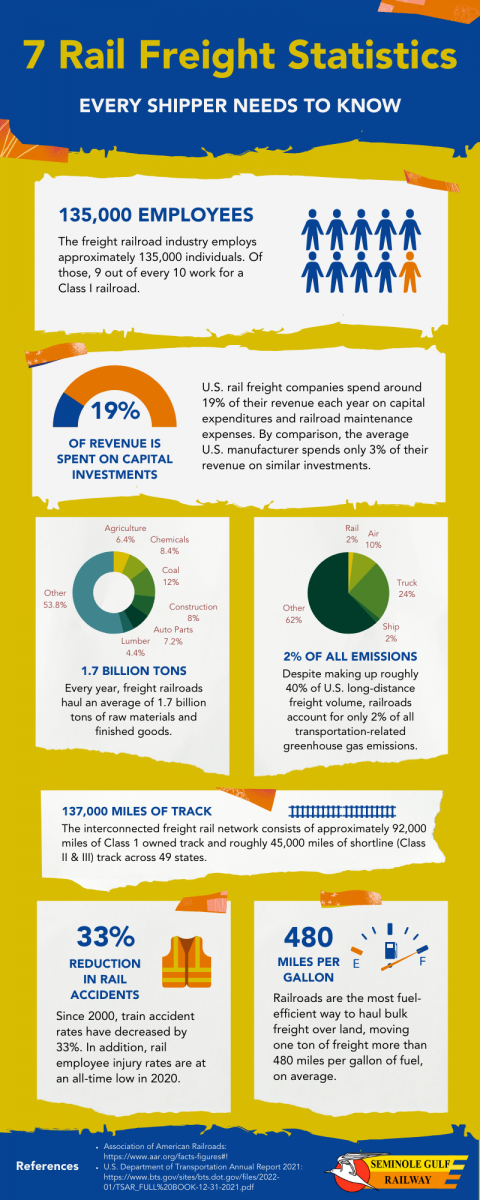 1. THE RAIL FREIGHT INDUSTRY EMPLOYS OVER 135,000 AMERICANS
It's no surprise that the railroad is a huge industry in America, but did you know there are over 135,000 individuals collecting an average of $95,700 in wages from a business in this sector? Of those, 9 out of every 10 work for one of the 7 largest Class I railroads. The remaining 17,800 workers are proud to be employed by a regional or short line railroad.
2. U.S. RAIL FREIGHT COMPANIES INVEST 19% OF THEIR REVENUE ON CAPITAL INVESTMENTS
Over the past 40 years, U.S. freight railroads have spent an average of $25 billion per year—or more than $68 million a day—on maintenance expenses and other capital investments. This money goes toward improving the safety and operational efficiency of locomotives, rail cars, tracks, tunnels, bridges, and other equipment and infrastructure. While rail freight companies as a whole invest around 19% of their revenue in this area, short line railroads bring up that average with their impressive 24% capital investment rate.
3. FREIGHT RAILROADS HAUL 1.7 BILLION TONS OF RAW MATERIALS AND FINISHED GOODS EACH YEAR
In 2020, the average freight train could haul 2,923 tons of raw materials and finished goods. Twenty years later—thanks to redesigned railcars and other engineering improvements—that number increased to 3,817 tons. Most of this freight consists of agricultural products, chemicals, building materials, aggregates, and 10 other commonly hauled bulk commodities.
4. FREIGHT RAILROADS ONLY ACCOUNT FOR 2% OF ALL TRANSPORTATION-RELATED EMISSIONS
While about 40% of all U.S. freight is shipped via rail, railroads only account for roughly 1.9% of our country's transportation-related greenhouse gas emissions, according to the EPA. One of the reasons this number is so low is that in 2008, the EPA enacted stringent new regulations for locomotive emissions. They estimated that this would reduce nitrogen oxide emissions by 80% and particulate matter emissions by as much as 90%. Follow the link to learn more about the many sustainability benefits of rail freight transportation.
5. THE INTERCONNECTED FREIGHT RAIL NETWORK CONSISTS OF OVER 137,000 MILES OF TRACK
Running on nearly 140,000 route miles, the U.S. freight rail network is considered by many to be the most expansive freight system in the world. To put that into perspective, if you extended all that track into space, you could make it more than halfway to the moon! While the majority of this track is owned by the big Class I railroads, short line companies operate a staggering 47,500 route miles.
6. RAIL ACCIDENT RATES HAVE DECREASED BY 33% SINCE THE YEAR 2000
According to the Association of American Railroads, America's freight rail industry is not only among the safest sectors in the country—but the entire world! Over the past two decades, train accident rates have gone down by 33% and hazmat accident rates have decreased by 64%. In addition, rail freight employee injury rates have never been lower than they were in 2020. This is thanks to an industry-wide commitment to ongoing capital investments, technology integration, operational improvements, and safety training.
7. TRAINS CAN HAUL 1 TON OF FREIGHT MORE THAN 480 MILES ON A SINGLE GALLON OF FUEL
In 1980, U.S. railroads could haul one ton of freight 235 miles on a single gallon of fuel. Today, the average rail car can move a ton of freight over 480 miles on the same gallon of fuel. Compare that to the standard Class 8 Truck, which has an average fuel economy of just over 5 miles to the gallon. This makes railroads by far the most fuel-efficient way to haul bulk freight over land. In fact, freight locomotives consume 675 million fewer gallons of fuel today than they did 20 years ago!
MAKE THE MOST OF YOUR FREIGHT SHIPPING WITH SEMINOLE GULF RAILWAY
Whether you're hauling lumber, building materials, aggregates, plastics, LP gas, or any other commodities, Seminole Gulf Railway is the experienced freight shipping partner you need. Since 1987, we've been providing our customers with unmatched rail freight transportation, transloading, regional trucking, and warehousing services. Contact us today