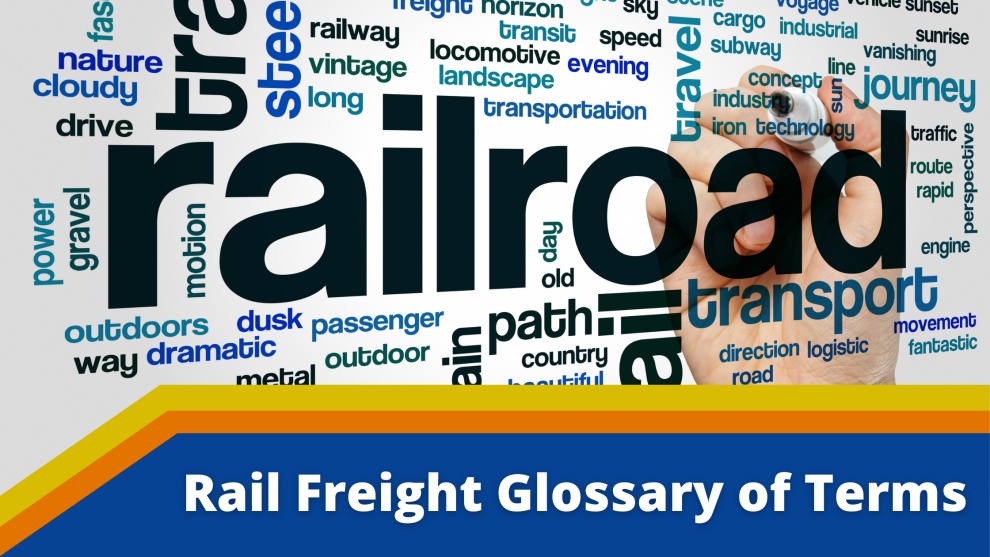 Have you ever said "interchange" when you really meant "intermodal"? We really can't blame you. Since American railroads have been around for over 200 years, many terms are so archaic and confusing, their original meanings are nearly impossible for the average person to infer.
Fortunately, Seminole Gulf Railway is here to help. We've taken dozens of the most common railroad terms and assembled them here into one easy-to-understand railway glossary.
Railway Terms and Phrases You Should Know (With Definitions)
Actual Placement
When a rail car is placed in an accessible position for loading or unloading, or at a point designated by the Consignor or Consignee.
Assignee
A shipper who has requested and has been assigned rail cars for their use.
Assigned Car
A rail car of any ownership specifically requested and assigned to a shipper from a pool of assignment service rail cars.
Bad Order
A train that has a mechanical defect and must be removed from the line for repairs.
Belt Line
A railroad that operates exclusively in or around a large city.
Bill of Lading
A receipt containing a detailed list of a shipment's goods. It is usually given to the consignee (customer) by the consignor (carrier).
Carload
The amount of goods that can be carried in a railroad freight car.
Carrier
An individual or corporation engaged in the business of transporting goods.
Class I Carrier
Any carrier earning revenue greater than $900 million. Due in large part to decades of mergers and bankruptcies, Class I today consists of only the top 7 rail freight carriers.
Class II Carrier
Any carrier earning revenue between $40.4 million and $900 million. Mid-sized regional railroads make up the majority of Class II rail carriers.
Any carrier earning revenue less than $40.4 million. Class III is primarily made up of local short-line railroads that serve smaller towns and industries. Seminole Gulf Railway is designated as a Class III carrier.
Chargeable Day
A twenty-four (24) hour period (or fraction thereof) commencing 0700 hours (EST) after actual or constructive placement and until the car is released and available to SGLR. Also known as a "Storage Day," they are accrued during a single calendar month and are billed at the end of each calendar month.
Consignee
The party to whom a shipment is consigned, or the party entitled to receive the shipment. In some cases, it is the party serving as the agent of the consignee, such as a transloader or public warehouseman.
Consignor
The party in whose name the rail cars are ordered, or the party entitled to release the shipment, In some cases, it is the party serving as the agent of the consignee, such as a transloader or public warehouseman.
Consignment
The shipment of goods to be delivered by the carrier.
Constructive Placement
When a car cannot be actually placed because of any condition attributable to the Consignor or Consignee. In such a case, the car will be held at an available hold point and notice will be given to the Consignor or Consignee that the car is held and awaiting instructions. Cars placed on customer siding will be considered constructively placed and no notification will be provided.
Container
A standardized 40-foot box designed for shipping freight by rail, ship, or truck.
Coupler
A flexible mechanism that securely connects two train cars.
Credit Day
Also known as "free time," it is an SGLR-issued credit for one (1) chargeable day that is accrued within a single calendar month. All accrued credit days will be applied at the end of the calendar month against all chargeable days. Credit Days are typically applied for the first two (2) calendar days from the time of constructive or actual placement.
Deadhead
To complete a trip without paying passengers or freight.
Demurrage
The fee a railroad charges its customers for the extended use of its freight car.
Double-Stack
Piling one container on top of another in a specialized well car.
Double the Hill
The act of dividing a train into two separate sections to make it over a steep grade.
Free Time
A non-chargeable day (see also "Credit Day"). Credits can only be earned on those rail cars released to the carrier for further disposition.
Interchange
The transfer of rail cars from one line to another. This is commonly done at a designated interchange (junction) point.
Interline
When a shipment travels on tracks that belong to two or more railroad companies.
Intermodal
The process of using two or more modes of transportation to move goods from point A to point B. This can include using any combination of rail, truck, plane, and ship. Intermodal shipping is primarily conducted using large metal shipping containers, without any of the goods needing to be unloaded and reloaded in the shipping yard.
Lease Track
Track(s) assigned to a user by written agreement. The lease track will be treated the same as a private track.
Manifest
The paperwork that identifies the type of freight each train car is carrying.
Piggyback
The practice of hauling trailers or semi-trailers by rail atop a flatcar.
A system that helps to prevent collisions and derailments by automatically slowing or stopping trains that are at risk of an accident.
Private Car
A rail car bearing reporting marks other than those of a railroad.
Private Track
Trackage assigned for individual use including privately owned or leased tracks.
Public Delivery Track
Any accessible track that is open to the general public for loading or unloading.
Railroad-Marked Car
Any rail car designated with railroad reporting marks.
Roadbed
The foundational structure on which railroad tracks are laid.
Spur
A short branch of track that connects to the main line at only one point.
Terminal
The areas and facilities used to transfer freight to other modes of transportation.
The process of transferring goods from one transportation container to another when one type of transportation is not available for the entire journey. This can be done between different types of freight vehicles, such as trains and trucks, or between different types of rail cars.
Yard
The place where rail cars are stored until they're connected to a train and shipped out.
Seminole Gulf Railway is Your Supply Chain Solution
Hopefully, this glossary of railway terminology has taught you a thing or two about the complex lingo of rail freight workers. With these new railroad terms at your disposal, you'll soon be ready to speak with a freight shipping expert at SGLR.
Since 1987, we've been providing our customers with unmatched rail freight transportation, transloading, regional trucking, warehousing services, and much more. Whether you're hauling lumber, building materials, aggregates, plastics, LP gas, or any other commodities, contact us today to discuss your supply chain needs.