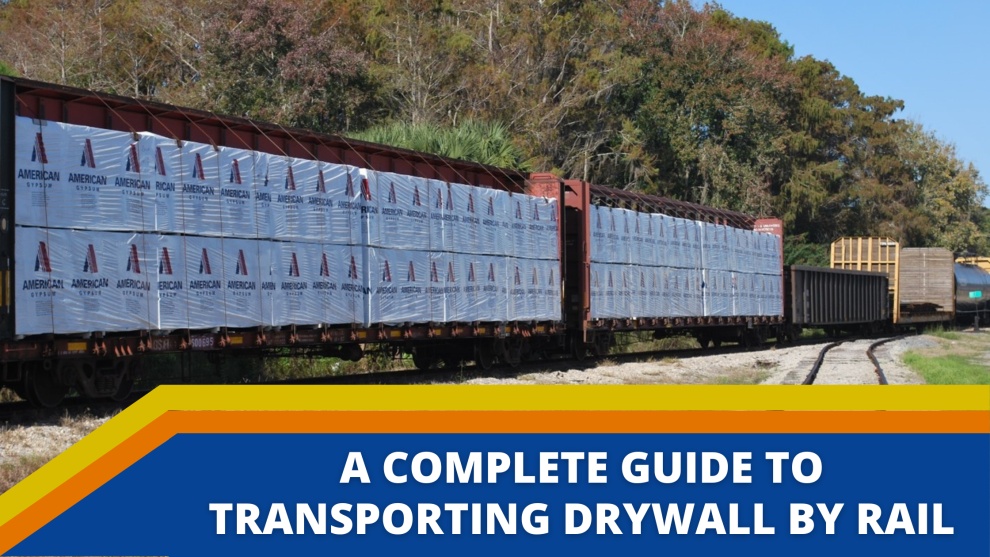 The construction industry relies heavily on transportation to ensure vital products like lumber, aggregates, and drywall arrive safely at construction sites and distribution centers around the world. Railroads have remained one of the most reliable, cost-effective, and fastest modes of transportation for this industry due to the ability to ship large quantities of products at a time.
As demand for drywall continues to grow, transporting drywall is necessary for the success of the construction industry. While the best way to transport drywall can depend on the circumstances, shipping drywall by rail is the most cost-effective, sustainable option for large-scale transportation.
Knowing the basics of how to get drywall delivered by rail will help leaders in the industry make informed decisions on the best mode of transportation for their products. To that end, here's a breakdown of shipping drywall by rail.
What is drywall?
Drywall is a common construction product. It's made of calcium sulfate dihydrate, or gypsum plaster, sandwiched between thick sheets of facer and backer paper. Drywall is often referred to as plasterboard, wallboard, gypsum board, or Sheetrock—the last of which is a brand name streamlined into a generic term.


Common drywall uses
Drywall is most commonly used for constructing interior walls and ceilings. It's durable and lightweight, making it extremely easy to install. It's also very durable and fire-resistant, making it a great product to install in homes and buildings. If damage does get inflicted, drywall is easy to repair. While its main purpose is for interior walls and ceilings, drywall can also be an effective construction solution for design features like eaves and arches.
Where is drywall sourced?
Drywall is made all over the world. There are several large drywall manufacturing plants in the U.S., as well as numerous gypsum mines in Oklahoma, Iowa, Nevada, Texas, and California. These states account for about two-thirds of the United States' annual production of gypsum. Over 20 billion square feet of drywall is manufactured in North America annually, according to a report from the Gypsum Association.
Transporting drywall
The best way to transport drywall ultimately depends on the situation. About 50% of drywall in the U.S. is allocated to residential buildings. In situations where homeowners are renovating or refinishing their house, they'll use drywall to add walls or update ceilings. It's easy enough to rent a truck to haul a few pieces of drywall locally from a hardware store.
But how do suppliers get drywall to local distribution stores for consumers to purchase? And what about the large portion of drywall in the U.S. used in large-scale construction projects or in new construction residences? For those situations where large quantities of drywall need to get transported, it's not as simple or cost-effective to use a truck.
For the drywall industry, some of the biggest things to consider when thinking about how to transport drywall is if a mode of transportation is convenient, low-cost, and efficient. Transporting drywall by rail covers all of those criteria.
The value of shipping drywall by rail
Rail freight shipping is a convenient, affordable option for the drywall industry. A single railcar can haul 177,500 board feet of drywall, which is enough to complete over 150 bedrooms!
Since sheets of drywall require a lot of space, shipping by rail makes it easy to get large loads of drywall from the manufacturer to its final destination. Railroads can support more products and transport them efficiently and cost-effectively. One major benefit of shipping by rail is not having to deal with road conditions like weather, construction, or congestion. Because of this, trains can better control scheduling and shipping times.
Railroads are also the more sustainable option. Trains submit fewer greenhouse gas emissions than trucks. Rail freight companies are pioneering green technologies as well, working to further reduce greenhouse gas emissions and make sustainable progress.



Benefits of partnering with SGLR for shipping drywall
Partnering with SGLR is the best way to transport drywall in Southwest Florida. As a short-line railroad servicing the Southwest Florida community, SGLR is a reliable, supportive shipping partner.
With over 30 years of experience with shipping drywall and other construction materials, Seminole Gulf Railway is an expert in reliably moving large amounts of freight in a timely manner. SGLR has access to an expansive freight shipping network, a wealth of supply chain services, cutting-edge logistics technology, and outstanding customer service.
Knowing how to get drywall delivered is a key component of the construction supply chain. If you need to move drywall or other construction products, Seminole Gulf Railway can efficiently and cost-effectively deliver your freight. Contact us today to discuss shipping solutions with SGLR.